Taghazout in Morocco
Shaun Michael Stone
Shaun Michael Stone
Taghazout
In a small fishing village north of Agadir is Taghazout. South of Morocco nestled by the North Atlantic Ocean, it's a popular location for surfers. As I walk around the village I observe the local sellers who sit in pockets of make-do seating selling wooden souvenirs, woven baskets, homegrown produce and vibrant coloured dreamcatchers. The strings of a ribab instrument pass me by as I take a seat at the windy bay restaurant.
What do I like?
I'm halfway through my trip and there are a few things I love about it here. It's mainly where I'm staying. A place called Amouage – one of the accomodation offerings of Surf Maroc. I spent my first few days in Tagazhout villa – a small walk down the road – which to me was a delight but maybe too tranquil for my liking. The villa inhabits a handful of rooms and looks over the ocean. I've met some great people there that come from places like Poland, Belgium, New Zealand and even closer to home in Edinburgh.
I had an odd experience on arrival of the villa. I had to walk down these stone steps into an ajar wooden fort door.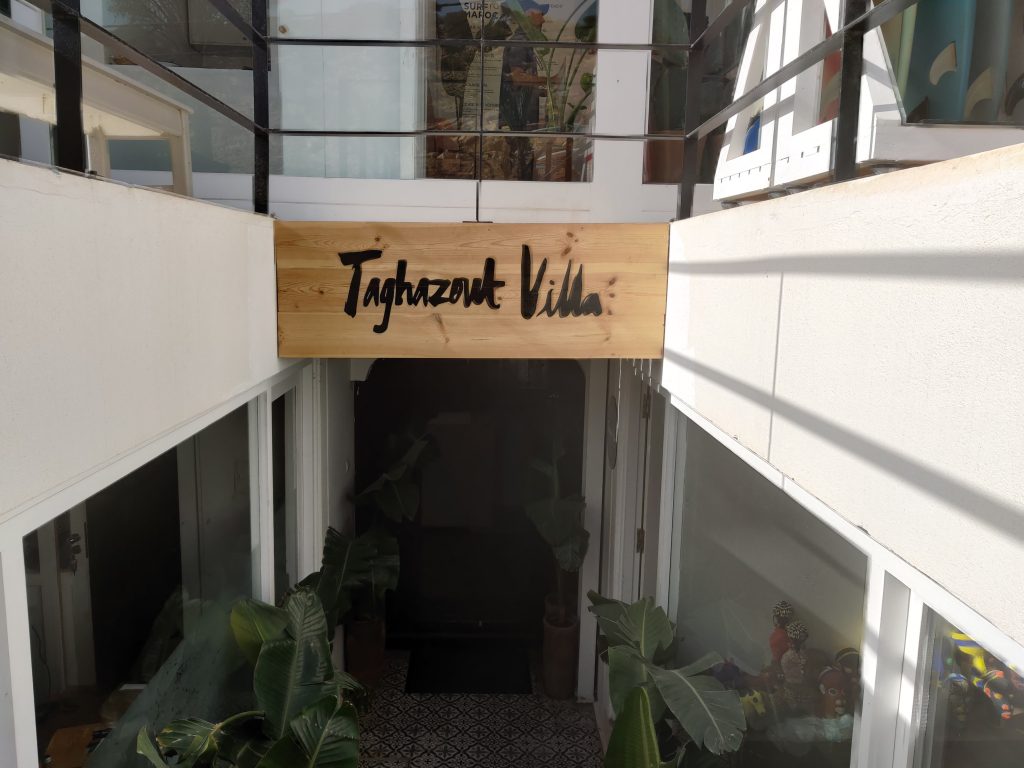 Inside there were no-one to been seen (I was on my own. Even the driver bailed). The reception was empty with a piece of paper with my name on it. I didn't even know what my room number was. I felt like I was in a saw movie, "Shaun, want to play a little game?" I found the room eventually by asking some random dude sitting in his room. He must've been creeped out.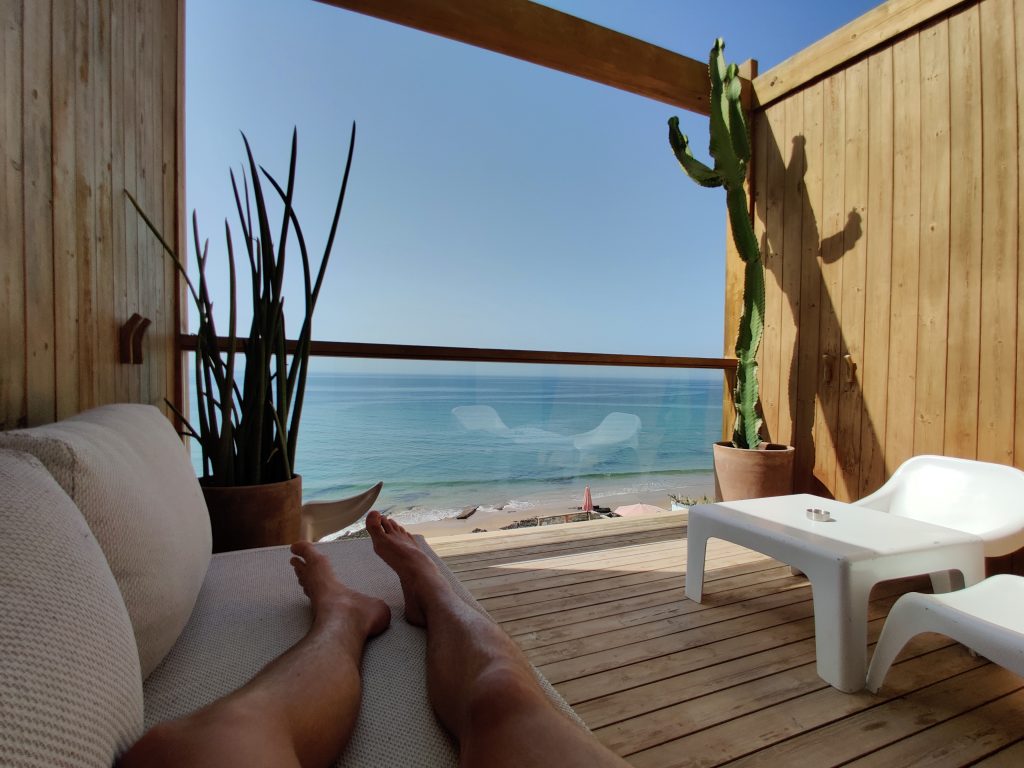 Overall thoughts?
On my move to Amouage I was astounded by the balcony sea view room. It's a real pleasure to step out and take in the sea, look down to the infinity pool beside it and just relax without a worry in the world. I came for the relaxation and to be a committed male yogi. The yoga is directly above me so it's easy to run in up there and get my breathing focused. They run sessions when the sun rises and sets. It's amazing to walk into a dark room and by the time the session is over the room is lit up and the sun is in full view.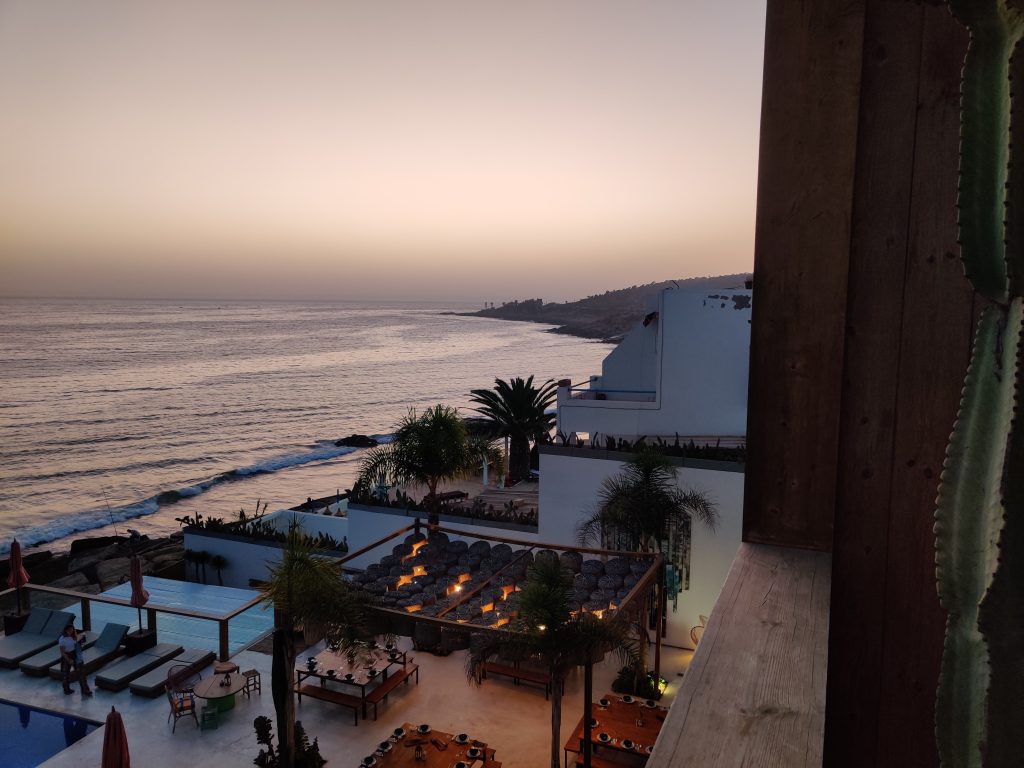 This place doesn't come without some drawbacks. Firstly the weather always looks fantastic on forecast, but it's not always a true reflection of things. A sea mist (the product of hot air from inland and the cold current running down the coast) can wreck havoc with your sun bathing sessions. Everything goes foggy. Before I arrived the mist was present all week. So I've been very lucky with my stay so far. Yesterday it was 35 degrees celsius with not a cloud in the sky.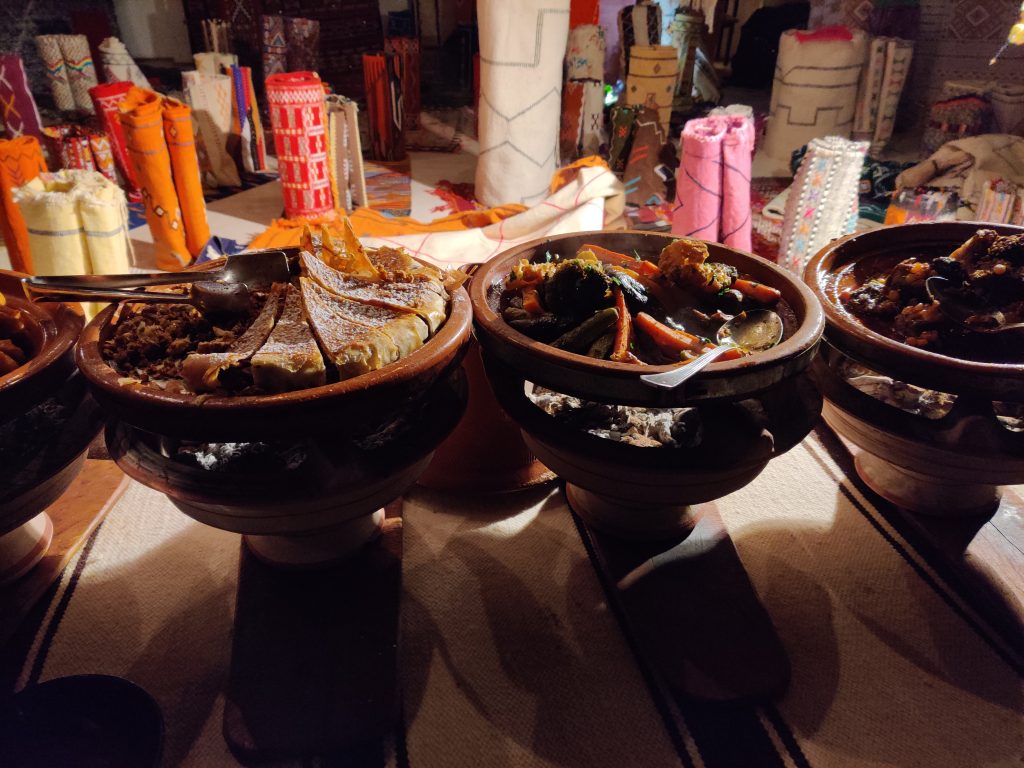 Also for surfers and people with weak stomachs. The combination of moroccon food and the untreated sewage pumped into the sea can really test your entrails. However there are things in motion (excuse the pun) to resolve this problem so don't let it sway you.
Spa
I've also experienced the spa (full body massage). Let me tell you… it's the first time I've been asked to put on a small little jockstrap (they refer to it as a bikini). On the plus side, the glutes are not neglected. I booked an hour slot and when the lady walked out of the room without saying a word, my mind was divided on whether I should stay or go. After ten minutes and a knock on the door, I got the hint.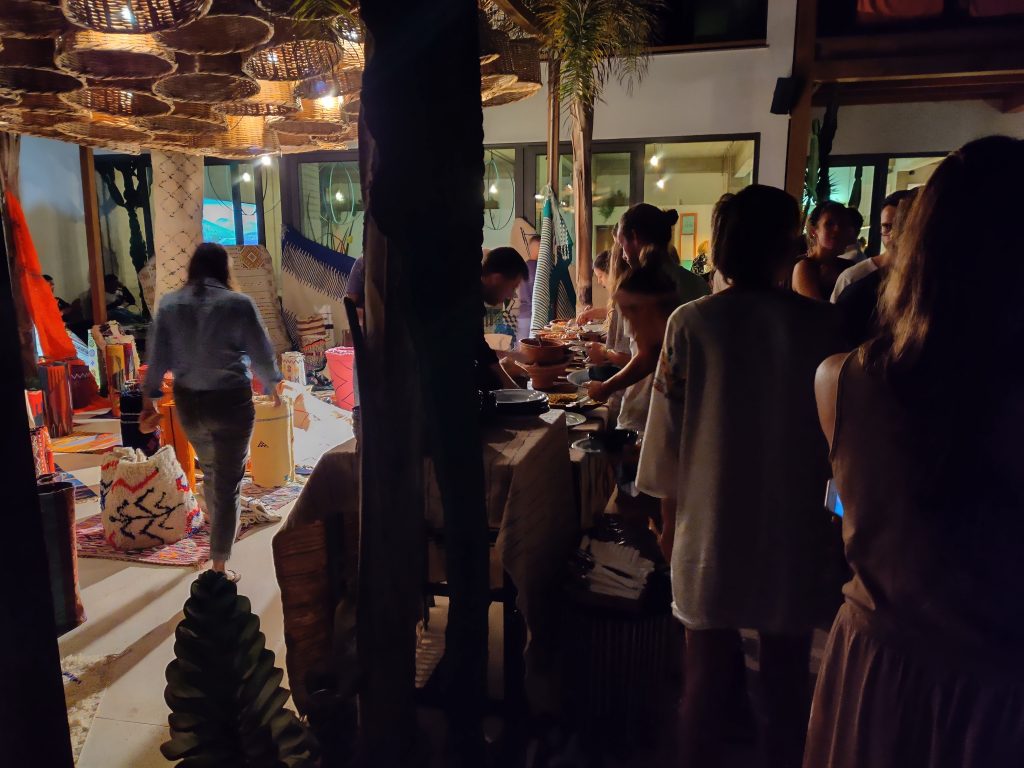 Staying at the Amouage hotel is highly recommended. You get to meet so many people, there are a few couples but a lot of solo travellers too so don't feel put off coming alone. It's perfect for surfers (they do weekly packages) and put on special events such as cinema nights, barbecues and even a pool party on Sundays. As well as the village itself it's one of those places you need to experience.
Please share if you enjoyed it